THE GEMINI SYSTEM
Our new generation provides
Preemptive control algorithms in swarm intelligence architecture on Gemini-link to the

constantly changing

deposition conditions

in the electrostatic precipitator

dynamically adjust the

High-voltage direct current transformer

and avoid unnecessary

flash

overs

.
comfortable handling due to a modern multilingual interface with a multi-touch glass surface and capacitive

controls

.

a high level of system

reliability and availability

(eg

.

Integrated

Uninterrupted

Power Supply

)

a voltage regulator

with

a safety-related

indications

.

a

secure investment

for the future

(e.g.

innovative

hardware architecture

)

.

Automatic detection

and individual treatment of

different

flashover

classes

.

Easy

options

to various processes by

predefined sets of parameters

.

A high level of security

due to

a graphical

operating concept

and

a comprehensive

rights management

in

the

operation

.
GEMINI-

IOS
Using the Input-Output System, we can meet the most diverse peripherals requirements.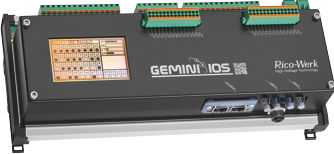 24

digital inputs

(isolated)
4 Analoge inputs (4-20mA)
12 Digital outputs (isolated)
Fieldbus connection (e.g Profibus)

Voltage management

(

3

outputs 24V DC

)
GEMINI-

ASP
The Analog Signal Protection unit allows us an accurate measurement data analysis even under difficult conditions.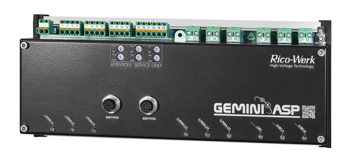 9 analog measuring channels (isolated)
1 analog input (4-20mA)
1 Digital output (isolated)
POWER-BOOST-

IPA2
Our PowerBoost with wireless Technology ensures anytime safe operation of the high-voltage system.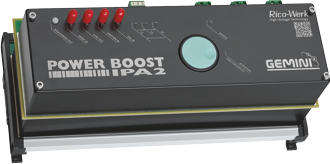 Optical ignition pulse input
Innovative synchronization
Service operation for fault analysis

Wireless

communication
Special features of the Gemini system
Experience our new generation
Rico Gemini at the Pulsing Three Phase System Disenthrals Sinter Dust
Dusts at the sintering belt have been considered in the past as the royal discipline for an electrostatic precipitator rsp. its high voltage power supply. Technological sophisticated micro pulse systems were regarded as the only sensitive solution for a satisfying dust precipitation. The Pulsing Three Phase Technology from Rico-Werk managed already to open a new chapter for the ESP at the sintering belt: The appearantly very high resistive and therefore spark over intensive precipitation process moves to a current loaded supplying due to short time conversions in the dust resistance behavior (see also report at the ICESP 2018 in Charlotte/USA). The new Gemini from Rico-Werk disenthrals the problematic sinter dust completely and controls the high voltage as calm as it treats the ash of a lignite power plant.